"Voice" has been a recurring theme through WorshipArts this year.  Along with the congregation, we've listened for voices of conscience, voices from the margins, voices of hope, and voices of resurrection.  On Sunday, May 13, we heard the adult choir sing the following words from a favorite anthem, "The voice of the Lord is powerful, the voice of the Lord is mighty."
But powerful isn't always loud – and sometimes it is the quiet, small voice that has a mighty impact;  The still, yet persistent voice that feels like a nudge and whispers a call.  I think that is how Rosi would describe the beckoning she felt toward a seminary degree, and eventually the licensing process which culminated in the worship service honoring her new credential on that Sunday morning.
Before the service, she shared with the WorshipArts children the significance of the day to her.  And after the service they shared their heartfelt congratulations, which they posted on her office door.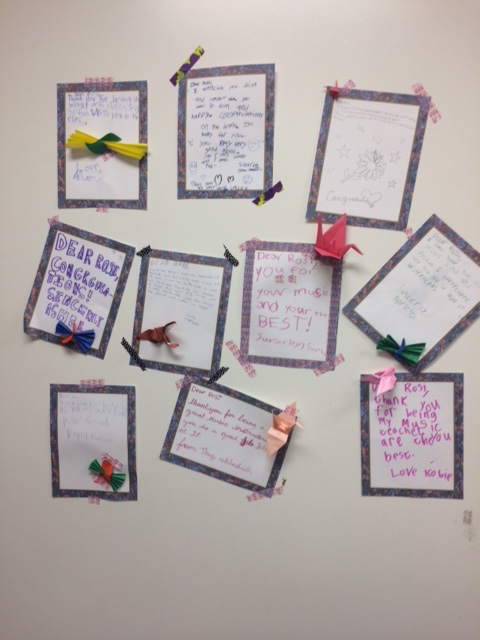 As Minister of Worship and Music, Rosi's leadership has been offered most visibly and audibly through music.  She has encouraged us, young and old, to lend our voices and instruments – helping us tune them along the way.  Individually and collectively; as soloists and in ensembles, as a choir, as WorshipArts participants, and as a congregation. Informally and formally; as friends gathered at a loved one's beside, as neighbors in the park, or with professionals in a concert hall.  Rosi leads with musical skill and knowledge, but she also leads through relationship.  The affirmations from the children expressed appreciation, admiration… and love.  (As seen in the excerpts below)
"Congratulations on getting your liecense (sic) for ministry today.  I'm sure you worked extremely hard to earn it."
"I'm happy for you.  You play very good music.  Your very lovely and I mean it."
"It is so fun with you in the class."
"You are awesome."
"Thank you for helping us."
"You are the best"
"You teach us songs and lots of other things too.  You make music flow through the church wich (sic) makes me happy."
On Sunday morning the WorshipArts children sang a piece by Natalie Sleeth for the Call to Worship, and I can't help but hear in it, as well, Rosi's call to all of us…
"Who's going to tell the story?  You and I!  Tell of the Lord's great glory?  You and I.  Who's going to let the whole world know?  Help his disciples grow and multiply?  You and I."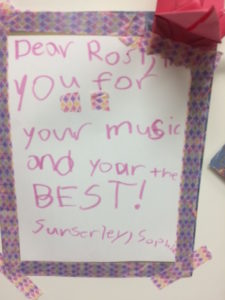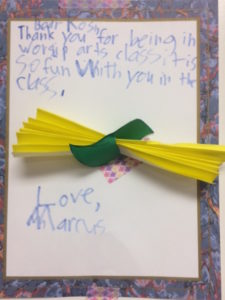 Congratulations and thank you, Rosi!!
.