Rainbow Summer Program is a six-week summer enrichment program for 36 children who have completed grades K – 8. Curriculum emphases include:
literacy and reading
leadership development
health and nutrition
cultural enrichment
parental involvement
social action and community service
This summer the program will operate from June 14 to July 23, Monday through Friday, from 8am to 3pm. Before and After Care will NOT be offered for the 2021 Program. In order to secure your child(ren)'s enrollment an application fee, which is $35 for one child or $70 for two or more children, will need to be paid in full, to complete enrollment. Enrollment is on a first come, first served basis.
For information about this summer's virtual program, view the video below:
Rainbow Summer Program is located in Rosedale, a neighborhood of Kansas City, KS, which is ethnically diverse and mostly low-income. The children who attend reflect the diversity in the surrounding community. Rainbow Mennonite Church has hosted a Summer Program since 2007. The program costs $90,000 annually and is funded through a combination of generous donations from the community, grants and program fees.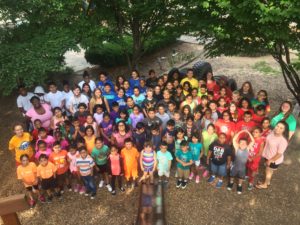 For more information, email Samanthe Burton-Bosket  at