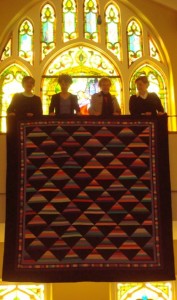 There are several fellowship groups that gather periodically including a men's breakfast, two women's coffee groups, and a run/walk group that meets weekly or biweekly for fellowship. There is also a quilting group that meets regularly. The young adult group typically meets bimonthly.
What can I expect if I join a small group?
Our Small Group committee invites and encourages all attendees to become part of a small group that meets regularly for two years for the purpose of building the church community and growing into a deeper understanding of God. Currently we have nine small groups. Groups are intergenerational and focus on building relationships which provide a supportive environment for life's individual challenges and joys. Groups may provide an avenue for discussing congregational and community issues. Members will decide the shape and components of their group life. A list of such activities might include: music, prayer, devotions, fellowship, sharing, topics for discussion, meals or snacks, involvement in church and community tasks, service or peace projects, or other group events.
Small Group with a Spiritual Purpose offers an option to individuals and families with a greater interest in developing and growing spiritually. Activities may include readings, prayers, sharing spiritual journeys singing, discussion or other topics decided by the group.
If you are interested in joining a small group e-mail office@rainbowmennonite.org or click here to fill out the online form.