In the summer of 2003, Rainbow Mennonite Church approved a major renovation of our worship space. To facilitate the installation of an elevator and the addition of a new entry, the 1930 5-rank Reuter organ had to be removed. Although the organ had served the Methodist, Disciples and Mennonite congregations well for over seventy years, it would not be adequate for our remodeled space. An organ fund had been in place for nearly fifteen years, and an organ committee was formed to determine the best course of action. The committee talked with several organ builders about a new instrument, but the space limitations and cost seemed more than the congregation was ready to take on in the midst of the renovation project.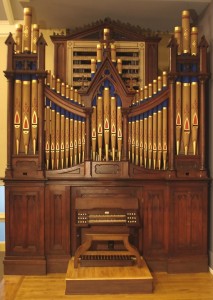 Rosi Penner Kaufman's search for an instrument through the Organ Clearing House led to the 1869 E. and G.G. Hook mechanical action organ. It was offered by the Presbytery of Albany due to the closing of the Woodside Presbyterian Church in Troy, New York. Rosi and Carol Buller made a trip to Troy to see the organ. It seemed that it would be a good fit, but the congregation did not have the funds available at the time to purchase the organ. A number of delays regarding the sale of the Woodside church property gave the congregation time to consider the purchase of the instrument and raise money to move the organ. Through a generous donation, the purchase price of the organ was raised. Michael Quimby of Quimby Pipe Organs, Inc., offered valuable assistance with logistical advice as well as a place to store the organ and work on it once the funds were raised for the refurbishing of the organ. In July 2004, Rosi, with church volunteers Dan Coronado, Marsha Rhoads, and Freddy Rhoads went to Troy to assist Joshua Wood and George Gibson of the Organ Clearing House with the dismantling, packing, and loading of the organ into a semi for its trip to  Warrensburg.
Once in Warrensburg, Michael Quimby contracted with Richard Hamar, master organ builder, of Norwich, Connecticut, to supervise the thorough mechanical restoration of the organ, including releathering of the large double-rise bellows and checking the windchests for leaks. Every piece was cleaned, checked for damage, and reassembled in the shop. Parts were replaced only if broken beyond repair. Even the original screws were cleaned and reused. Eric Johnson, voicer for Quimby Pipe Organs, cleaned the reed pipes and repaired the flue pipes as needed. All of the paint on the pipes and swell box is original, other than some repainting on the swell box frame due to damage. Part of Richard's gift to the congregation was his willingness to direct the nearly four dozen volunteers who were enthusiastic but novice shop labor.
With the dedicated work of many, many people, it is our wish that the Rainbow congregation will use this special instrument in its mission to worship, learn, and serve here in the Rosedale community.