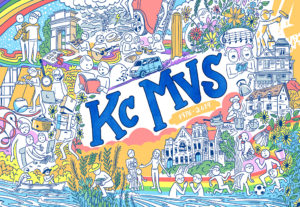 Due to COVID-19, Rainbow has decided to cancel the in person MVS Celebration and Decommissioning Service scheduled for May 9-10. Instead, we would like to host any and all who are interested in a Zoom video call on Saturday, May 9th at 3:00pm. Please continue to RSVP through the RSVP link below, which we will use for the call. Please include your mailing address in the RSVP form so we can send you a commemorative MVS postcard!
To RSVP, please click here.
Also, this means we still want you to send in pictures, personal updates, and memories for some kind of history or memory piece/archive for Rainbow. We would love to share some of these at the event, so please send them in!
Contact us at office@rainbowmennonite.org or 913.236.8820 with any questions. For further information, join the KC MVS Facebook group here.
---
In 1975, Richard Friesen typed a letter to MVS director Gene Stoltzfus articulating Rainbow's interest in starting an MVS unit in Kansas City. Gene wrote in response, "We like the dream; now we need to get it off the ground."
Now the time has come to dream new dreams. In December 2019, Rainbow Church Council voted to close the KC MVS unit. We are sad the unit is closing, but who knows what will rise as a result of this particular end?!